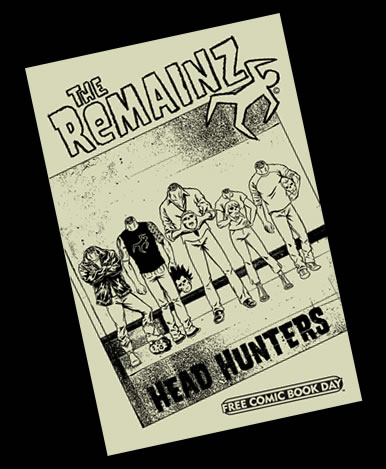 ROTTING BONES MAGAZINE
Widely acknowledged as the premiere periodical for the supernatural music scene, ROTTING BONES MAGAZINE releases their 666th issue and spotlights a cover and interior article featuring the REMAINZ. Copies of this magazine may be hard to come by, but we have been granted exclusive permission to present the article in its entirety for fans of the band to read and enjoy.
The article is available HERE in html format to read online.
Special permission was also granted to allow readers to download a copy of the article in PDF format HERE.
THE REMAINZ
HEAD HUNTERS
Just in time for FREE COMIC BOOK DAY on Saturday, May 4, 2013! This 8 page mini comic celebrates FCBD with a whimsical adventure featuring the band. This is your opportunity to get to know Morgan, Barry, Rip, Don and Urny. The pamphlet is available for free on FREE COMIC BOOK DAY from participating comic book stores while supplies last.
Unable to get a copy of your own? Download a free PDF HERE.